When making content for LinkedIn, it's important to remember that you are doing this to market yourself. Creating content is very important to stay relevant on the site and not be overlooked. However, most of the content out there ends up fading into white noise, (if your brand is even creating content for the platform at all.) Here are 4 types of content you can make right now to help your brand stand out from the crowd.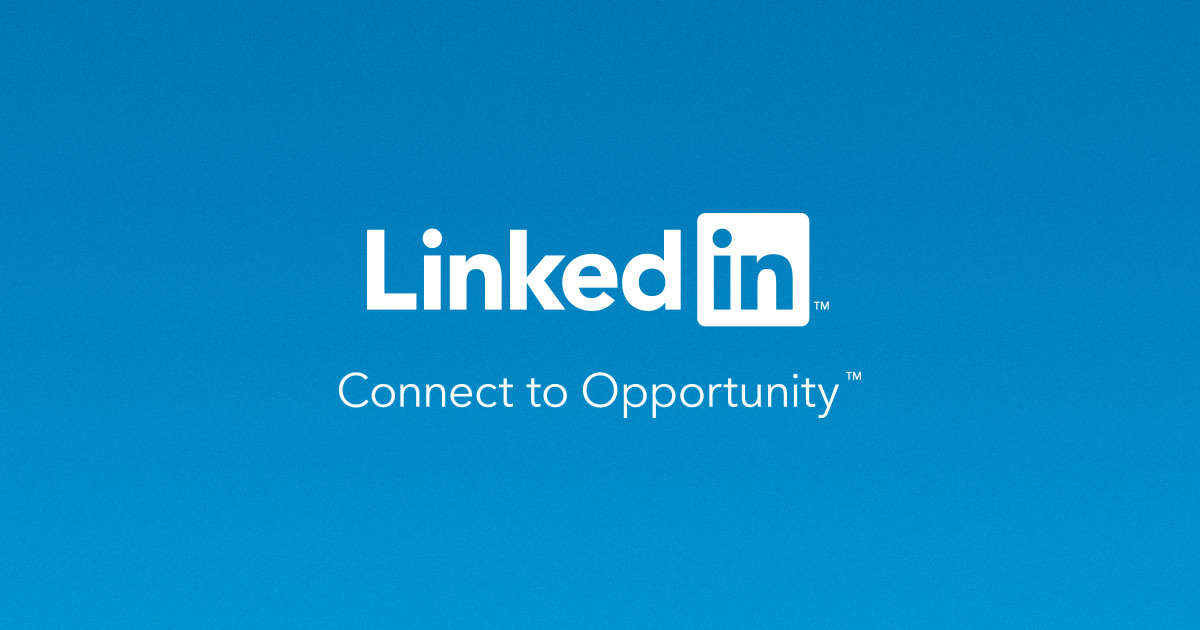 Personal Stories
Let's face it, a lot of businesses will have the same kind of stories to share about record highs and lows, about recent hires, nearly going broke etc. and often will not have anything exceptionally original to say when it comes to their brand's journey.
This is why talking about your journey from your own point of view is really important, as this is going to be the only thing that you can speak on with full transparency. This will give everyone an honest insight into your brand as a result and give you credibility when you post in future.
Personal stories provide the most engagement thanks to the insight they give into the person posting, and so they are a great way to provide valuable content for your network.
Polls
Polls are a slick way of checking the pulse of your network and getting the lay of the land on a range of topics relating to your business. Even seemingly irrelevant opinion questions can speak volumes on your peer's strategies and your target audience's feelings.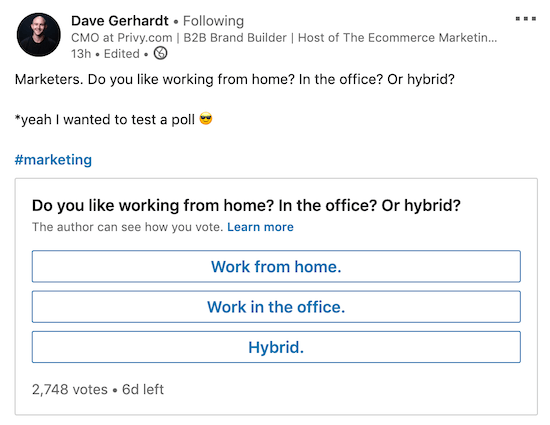 The trick is to construct your polls in such a way that the people answering them want to give more than just an to the question. You want to know their opinion, and you want others to talk about it with them – and so making sure that the poll creates some sort of discourse in the comment section is key.
Making polls also proves to your network that you are interested in engaging with them, and therefore, keeps them interested in you in turn.
Polls are great because they are incredibly fun and easy to put together, but try and encourage discourse in the comment section below, (include a poll option that requires a more nuanced comment rather than a binary yes or no.)
How-To's…
How-to videos and written posts are an excellent way to give practical information to your network and ensure that people will pay attention to your posts in future. They also serve the purpose of proving your expertise in your field both your peers and your target audience. Just a really nice way for you to give back to your audience and advertise yourself.
Don't be afraid of putting your skills out there and allowing yourself to be challenged – as this will create discourse – which in turn, will fuel engagement.
Achievements
Sharing your accomplishments with your network is (needless to say) a very rewarding process for yourself and for the people rooting for you. Posts like this are often a staple of all LinkedIn content, almost to the point of parody.
This is why you must take extra care to phrase your achievement posts in a way that is unmistakably in your personal brand's tone of voice. It's easy to sound pompous or corporate when rattling off recent successes, and we do this as a way of not coming across like we're boasting, but unfortunately, a dry post will just fade into the rest of LinkedIn's white noise.
So, the trick is to phrase your achievements as honestly and as raw as possible. This way, you retain the soul of your personal brand while also being able to advertise to your network that you know what you're doing enough to reach positive milestones. Self-shot video content is really good at getting people's attention, while also remaining genuine.
These are just 4 content types that can do well on LinkedIn, but there are more. Don't be afraid of thinking outside of the box when it comes to posting on the platform. LinkedIn success comes from aiming for putting out stuff that's unique to you and you alone.
Find a posting schedule that works for you – doesn't have to be super regular, just consistent. And in time, you'll find that creating content for LinkedIn will become a reliable and engaging activity for your personal brand.
Check out the three rules for personal branding as a marketer here.